Few weeks ago I published photographs my wife's fish pie on my instagram and facebook pages. It intrigues several of my followers and I promised to prepare a recipe for this dish. Apologies for the wait but your patience is now being rewarded. Last weekend I cooked fish pie for dinner according to my wife's strict instructions and I am now ready to share her secret. This is a great dish for using spare bits of fish after filleting. Filling and flavoursome it sits near the top of my favourite comfort foods. Plus it is a great way to make your little ones eat more fish! Give it a go and let me know how it was.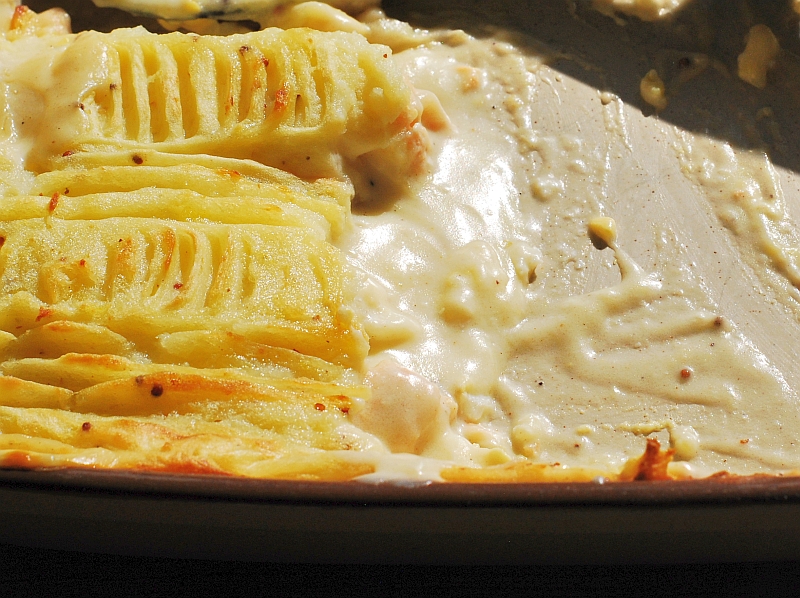 Makes 4 portions
Equipment required: square ovenproof dish  around 20 x 20 cm or similar
Ingredients:
750g potatoes
2 hard boiled eggs
100g salmon cut into bite size chunks
100g white fish (cod / haddock) cut into bite size chunks
100g smoked fish (haddock / pollock) cut into bite size chunks
500g full fat milk + extra for mash potatoes
45g butter + extra for mash potatoes
45g flour
1 tsp grated nutmeg
2 tsp Dijon mustard
2 tsp wholegrain mustard
8 uncooked prawns, shelled (optional)
Salt and pepper
Method:
Peel and cook the potatoes in plenty of salted water. Drain and mash with butter, milk and wholemeal mustard. Season to taste. Cover and set aside to cool down a little.
Pre heat the oven to 190 centigrade.
Peel the eggs and cut them into bite size chunks. Scatter on the bottom of the ovenproof dish.
Scatter the fish (and prawns if used) on the bottom of a deep frying (sauté) pan. Cover with milk and place over a medium heat. Poach the fish for about 5 minutes. You want the fish to release it's flavours into the milk but not to be cooked.
Remove the fish from a pan and scatter evenly on the bottom of the ovenproof dish. Reserve the milk.
Melt the butter in a medium sized heavy-bottomed saucepan over a medium heat.
When the butter is starting to bubble add the flour and immediately mix briskly with a whisk off the heat. Keep whisking until all of the butter has been absorbed and you have a lightly golden putty-like paste that comes cleanly away from the pan.
Place the pan over a medium to low heat and add the milk, a little at a time. Whisk continuously to ensure no lumps form. Once all the milk has been added and you have a smooth sauce add the nutmeg, Dijon mustard and season to taste. Cook for another 2 – 3 minutes mixing from time to time. Take the béchamel sauce off the heat.
 Pour the sauce into the ovenproof dish and spread evenly to cover all of the fish and eggs.
Spread the mashed potatoes evenly on top of the béchamel and fish mixture. Decorate with a fork and scatter few knobs of butter (this will help to brown and crisp the surface)
Place in the middle of pre heated oven for 30 minutes or until the surface starting to brown.
Remove from the oven and let it cool down for about 5 minutes before serving.
Serve with steamed broccoli florets and a glass of chilled Chrdonnay.