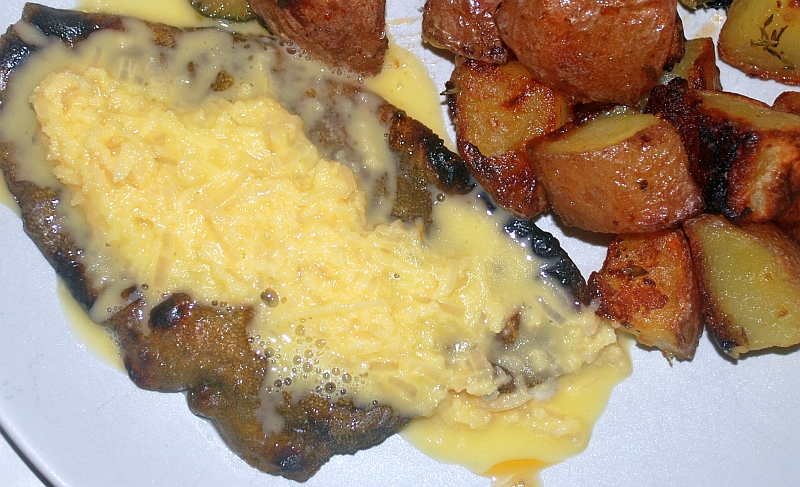 Grilled lemon sole with cider buerre blanc sauce
Grilled lemon sole with cider buerre blanc sauce
I hear from many people that they are scared or don't like cooking fish. Others tell me that they don't like eating fish, unless it comes from fish and chips shop. Yet, dieticians suggest that we should eat at least two portions of fish or shellfish per week, including one of oily fish. This is because fish is a great source of protein, vitamins and minerals. Also fish that is steamed, baked or grilled is healthier than fried fish. especially if fried in batter! For healthy oily fish recipe please have a look at my salmon en papillote recipe. Today I would like to share a recipe for white fish. Grilling is a very simple way of cooking fish. Even if prospect of cooking fish is daunting give this one a go. All it takes is to slice lemon which will help to keep the fish meat moist. Cover lemon slices with fish fillets, add a bit of butter on top and cook for few minutes under the grill. This very healthy alternative to frying is simple and with lemon slices fish remain moist and tastes great! I chose cider buerre blanc sauce for this recipe as it has a nice balance between acidity and sweetness. It pairs with the lemon sole perfectly. I agree that the sauce itself requires a bit more attention that cooking the fish itself. But believe me the result is worth that little extra effort. However it you prefer sauce to be simpler or milder replace buerre blanc with fish veloute or even simple bechamel sauce. Alternatively you can serve the fish drizzled with lemon butter. Lemon sole grilled over lemon slices has very delicate flavour and if you skip the sauce and peel the skin you can serve it to toddlers. You can substitute lemon sole with plaice, dab or flounder. Personally I avoid using plaice if I can as all other alternatives are more sustainable.
Makes 2 portions.
Ingredients:

For the lemon sole:
2 lemon sole fillets (buy ready prepared fillets or ask your fishmonger to prepare fillets for you)
1 large lemon
Knob of butter, softened to spreadable consistency
For the sauce:
35g cider vinegar
1 banana shallot (about 30g) finely sliced
50g sweet cider
Half of small apple, peeled and finely grated (ideally Cox apples)
100g unsalted butter, chilled and diced
1 tblsp of sugar (optional – if the sauce is too sharp)
Salt and pepper to season
Method:
For the cider buerre blanc:
Start with the sauce first as cooking of the fish does not take long
Put cider vinegar and shallot in a small saucepan and se
Add cider and grated apple and cook gently to reduce heat by one third
Keep the pan over a low heat and incorporate the butter with a whisk. Keep adding butter pieces one by one whisking continuously until all of the butter is incorporated. Make sure that the sauce does not boil it should barely tremble. The sauce should thicken a bit and have creamy appearance.
Taste the sauce and add sugar if you feel it is too sharp. Season to taste.
Transfer to a sauceboat and serve immediately. Alternatively keep
 the sauce warm in a bain-marie until you are ready to serve.
For the fish:
Line a large baking tray with kitchen foil and spread lemon slices across the tray.
Set the grill on high to pre heat
Lay the fish fillets on top of the lemon slices skin side up.
Smear  the butter over the fish skin and season with salt and pepper.
Place the tray under the grill and cook for up to 10 minutes until the skin is charred slightly.
Serve immediately with buerre blanc, roasted potatoes and Mediterranean vegetables medley.