Parmesan crusted sea bass
Parmesan crusted sea bass
Last night both my wife Becky and I were back home quite late. When you are tired after the whole day in the office all you want is a nice tasting dinner and preferably one that does not take ages to cook. I love fish and seafood. Not only it is healthy but also tastes great and fish usually takes very little time to cook. This recipe is super quick. Normally I do not mix fish and cheese but for a quick and extremely tasty dinner this combo is a winner. You can put the whole dish together in 15 – 20 minutes, including cooking of the rice! It does not get easier than that. So if you are planning to be home late make sure that you have sea bass fillets in the fridge.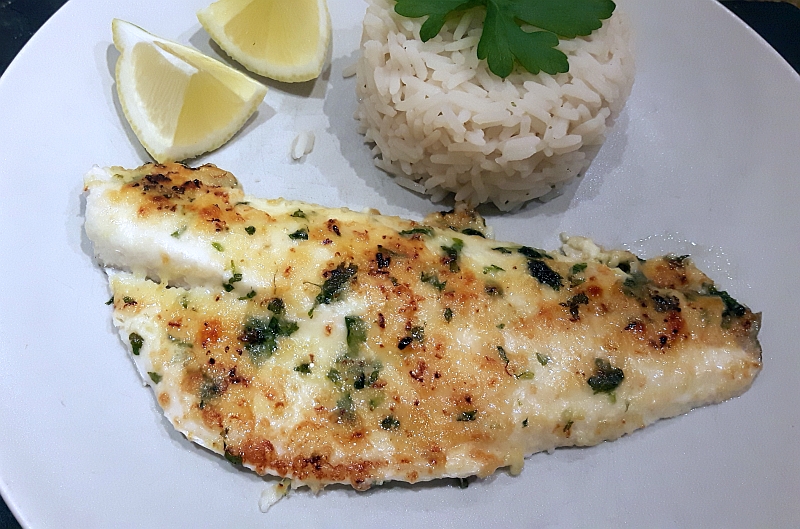 Serves 2
Ingredients:
2 sea bass fillets
2 tbls olive oil
50g grated parmesan
1 lemon
Small bunch of flat leaf parsley finely chopped
Salt and pepper to taste
Method:
Pre heat the grill to high.
Spread baking foil on a large baking tray and grease with 1 tblsp of oil.
Grate the zest of half a lemon and mix it with the parmesan and parsley.
Pat the fillets dry with paper towels and place them skin side down on a greased tray.
Grease the fillets with the remaining tblsp of the oil and sprinkle with juice squeezed from half of lemon. Season with salt and pepper to taste.
Scatter the parmesan, lemon zest and parsley mix over the fillets.
Cook under the pre heated grill for about 4 minutes or until the fish is just cooked and the crust starting to turn golden. The exact cooking time will depend on the thickness of the fillets
Transfer to pre heated plates and serve with boiled rice and lemon wedges.