Pasta with beans and rosemary
Pasta with beans and rosemary
There are days when you need just a simple dish that will give you a big hug. Nothing fancy but honest, tasty and satisfying. I usually have such meals when we are in a middle of the summer but the weather behaves like it was November. All I want on such days is a big steaming bowl of pasta. Add in beans, bacon and rosemary and I am happy. No matter the weather! This is an ultimate comfort food. Big on flavour and keeps you full for hours. You can keep any leftovers refrigerated for 24 hour and have it for lunch the next day. If you want to convert into vegetarian dish simply cook it without bacon.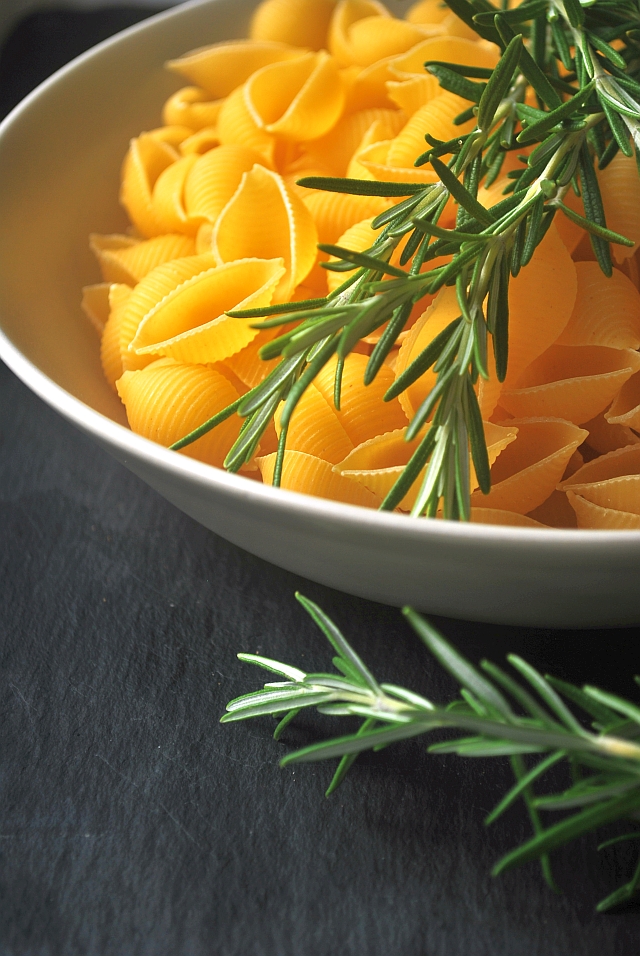 Serves 4. Recipe adopted from the original from Gino D'Acampo
Ingredients:
4 tblsp rapeseed oil
200g bacon cubes or diced pancetta
2 tblsp freshly chopped rosemary leaves
½ tsp dried chilli flakes
1 x 400g tin borlotti beans
2 x 400g tins cannellini beans
2 mushroom stock cubes (you can get them from decent Polish deli)
1L boiling water
300g conchiglie pasta
Seasoning to taste
Method:
Heat the oil in a large saucepan over a medium heat and cook bacon for about 5 minutes. Stir from time to time.
Add in rosemary and chilli and cook for another 2 minutes
Pour in the beans together with their juices from the tins. Stir well and cook for another 5 minutes.
Add in stock cubes with boiling water. Stir thoroughly, lower the heat and simmer for about 15 minutes with the lid half on. Stir every few minutes.
Add in the pasta and cook over a low heat according to instruction on the pasta packaging.
Season to taste . If the sauce is too thick add in some hot water.
Once the pasta is cooked al dente, take it off the heat and allow to rest for 2 minutes.
Serve in pre heated bowls with a glass of  Chianti.