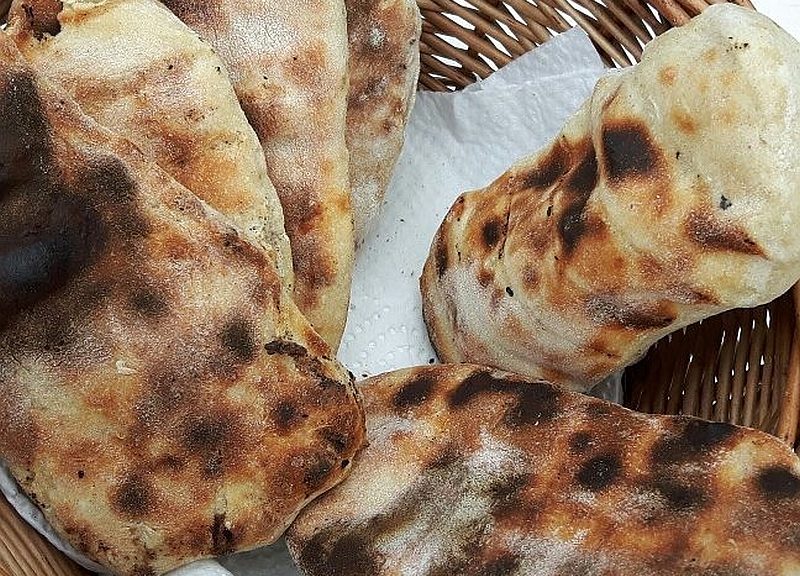 Super quick barbecue flatbreads
Super quick barbecue flatbreads
I know the spring this year did not spoil us with plentiful of sunny weather. However the summer is nearly upon us and it is about the time to fire up the barbecue. We all have our favourite protein cooked over the coals: burgers, chicken drumsticks, sausages, steaks, prawn skewers. The list is almost endless. However it is quite rare to have your bread baked on the bbq. Well, this is about to change. With this recipe it will be able to prepare a delicious flatbreads and serve them to your guests straight from the coals. With a hint of garlic and pack with aromas of burning charcoal this is perfect accompaniment for dips, sauces, skewered meats or grilled halloumi. And what is best that it takes very little time to prepare.
This recipe makes 8 flatbreads. It has been adopted from Gino D'Acampo recipe.
Equipment required: barbecue
Ingredients:
250g of self rising flour
½ teaspoon of salt
½ teaspoon of ground white pepper
1 garlic clove, peeled and crushed
50g of water
1 tblsp of olive oil
200g of natural yoghurt (any "live" yoghurt will do but I prefer to use Greek natural one)
Plain flour for dusting
Method:
Put the self rising flour into a large mixing bowl. Add the salt, pepper and garlic.
Pour in the water and oil. Add 4 heaped tblsp of yoghurt and mix all the ingredients together. Start working on the mixture with your hands inside the bowl. Knead it until you create a soft, smooth but slightly sticky dough. If the dough is too dry add more yoghurt. You may find that sometimes you will get away with just 4 tbls of yoghurt but sometimes you may have to add the whole 200g. It depends on how liquid the yogurt is and on temperature and humidity of your kitchen.
Cover the bowl with clingfilm and leave to ferment for about 1 hour. Note that this is not a yeasted dough so it will not rise. You can fire up the barbecue in this time.
After one hour lightly flour a work surface and transfer the dough from the bowl.
Divide the dough into 8 equal pieces. Roll each piece into a ball.
One by one flat each ball with palm of your hand and the roll into an oval shape with a rolling pin. You should get about 20 cm long  oval shaped flatbreads not thicker than 0.5cm.
Transfer rolled flatbreads onto a floured board or tray so you can take them to the barbecue area.
Cook them in batches by placing onto pre heated barbecue. They need about 1.5 minutes on one side until blisters appear on top or they are puffed up.
Turn over and cook for another 1.5 minutes until both sides are crisp and slightly charred.
Serve immediately.
Tip:
You can use grill in the oven to cook these flatbreads. Place them under the pre heated grill for 1.5 minutes on each side.
If you don't like garlic flavour try replacing crushed garlic with a tsp of dried oregano in step one.