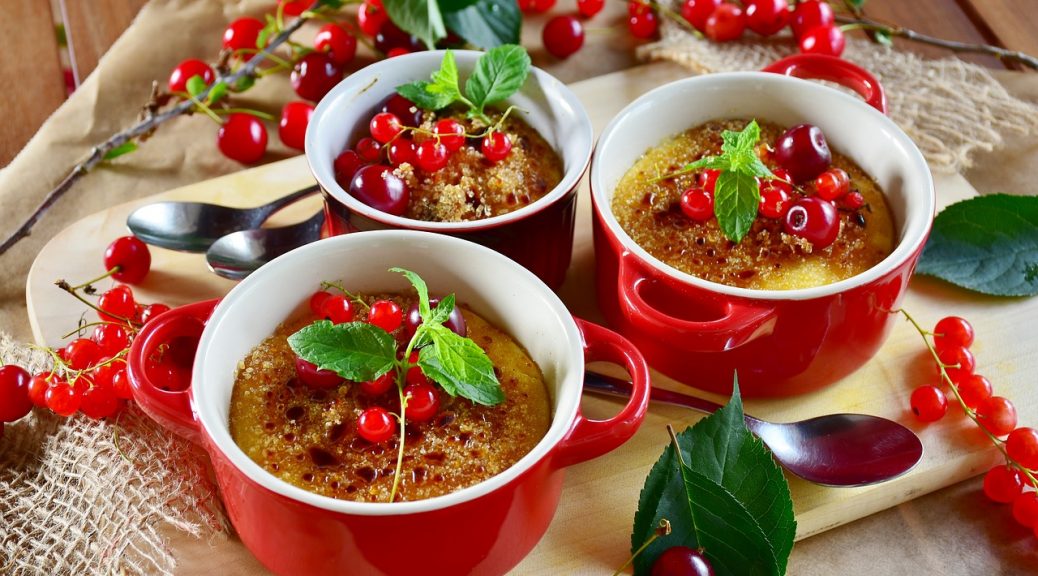 The moment of joy!
The moment of joy!
I must admit I have been a bit lazy lately. Instead of my own recipe this time you have a bunch of great dessert ideas from a guest collaborator. Read, cook and enjoy! Let me know how you liked it as I may continue this collaboration.
After a stressful day you deserve to treat yourself, and those around you too, and nothing quite does that like a mouth-watering piece of cake. Or slice of pie. Or scoop of crumble. In fact, any sweet treat that can really lift your mood, and making a delicious dessert yourself is a great stress buster too. With that in mind, let's look at five amazing desserts to help you kick back after a hard day.
Chocolate Cake
Let's start with a big hitter – chocolate cake! Get ready and combine:
4 eggs
200g flour
1 tbs baking powder
200g softened chopped butter
20ml milk
220g sugar
Add more butter whipped with sugar and melted chocolate for the icing – it's that simple.
Fancy trying vegan chocolate cake? Simply adapt by swapping out eggs and cow's milk for soya milk and lemon juice, and butter for vegan butter or plant-based spread. There's your easy vegan chocolate cake recipe, and either version is mouth-watering!
Lemon Meringue Pie
If you fancy something with a little more zest, lemon meringue pie ticks the box. You could buy a pastry base or make your own using:
180g flour
100g butter (from the fridge, it has to be cold!)
1 tbs icing sugar
1 egg yolk
For the meringue you'll need to whip up 2 large egg whites (or 3 medium) to soft peaks and then gradually add caster sugar and a little corn flour.
Finally, your lemony topping – all that needs is 100g sugar and 20g corn flour mixed in with plenty of lemon zest (2 lemons should be enough), lemon juice and 2 large egg yolks.
Apple Crumble
This is an all time favourite. The crumble mix is up to you – oats, granola, nuts, even biscuits – whatever is crunchy and delicious. Stew 3 or 4 apples with a little sugar (20g) and water until soft, spoon the softened fruit and crumble in your tray. For the crumble you'll need:
180g flour
100g caster sugar
100g chopped butter
Pop under the grill for a few minutes and don't forget a big dollop of ice cream or a generous pour of custard to go with your crumble.
Banoffee Pie
This one's really indulgent – but you have earned it. Combine 200g digestive biscuits with 70g butter to make your base and then get to work on your beautiful banana filling and creamy topping, combining:
160g butter
160g brown sugar
1 can of condensed milk
Finish with whipped cream, banana slices and treat yourself to chocolate shavings on top.
Crème Brûlée
No dessert rundown would be complete without a true French classic, so how about crème brûlée? Too tricky? You can do this. And you'll feel really good when you pull it off. All you need is:
8 egg yolks
125ml full fat milk
500ml full fat cream
1 vanilla pod
130g caster sugar
Heat the cream and milk with the seeds from your vanilla pod, and whisk up the yolks and sugar. Pour over the yolks and sugar when the cream and milk mix starts to bubble. Whisk and sieve to remove the vanilla seeds, then pour your mixture into ramekins and place in the oven (180C/gas mark 4) for around half an hour. Remove when ready, sprinkle on some extra sugar and either grill or blowtorch the top to get that famous crack.
Dive into an easy vegan chocolate cake or a more sophisticated crème brûlèe and you'll feel the stress of the day melt away!