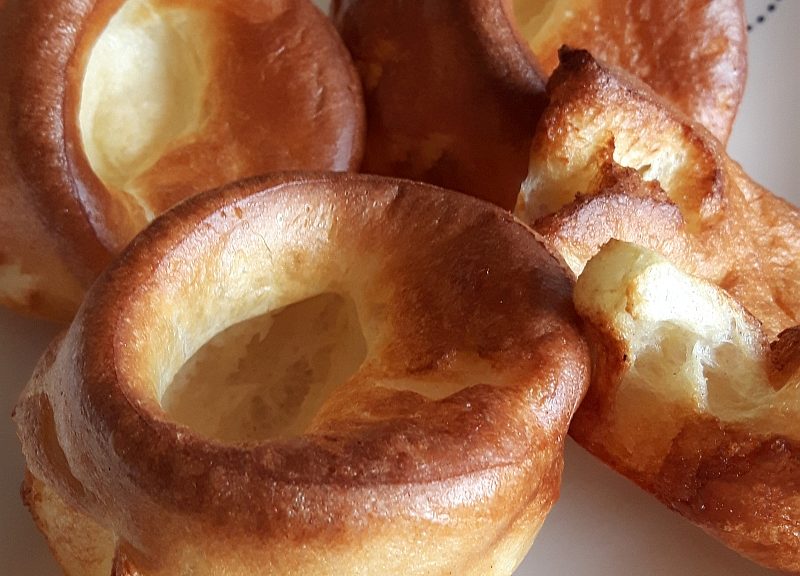 Yorkshire pudding – the notorious YP
Yorkshire pudding – the notorious YP
With every weekend there is time for the classic Sunday. Whether it is chicken, beef or lamb the roast is incomplete without the famous Yorkshire Pudding. Lightly crisp on the outside, wonderfully soft in the middle, just waiting to be dipped in a meaty gravy. Writing about it alone makes my mouth water.
At this point I owe few words of explanation to my readers that are not subjects of Her Majesty. In Britain you can call a pudding any dessert dish that is served after the main course. This is generally true unless you are referring to black pudding or Yorkshire pudding as these are served as a part or ingredient of a savoury dishes. So to put is simply Yorkshire pudding is a pudding but not dessert and this post refers to this essential part of the Sunday roast dinner. Origins of this dish dates back to the eighteen century when it was cooked on a separate pan under the joint that was roasted on a spit. It was cooked in fats and juices dripping from the roasting meat and was served before rather than together with the meat. This is because it suppose to fill empty bellies before the main event so that the expensive protein could feed more hungry mouths. Over the centuries meats became more affordable and ovens a bit smaller so these days this batter pudding is served on the same plate as the carved meat and other trimmings. However the main concept remains – it must be cooked in hot fat and it taste best with the meat juices.
Having such a great history you would imagine that making Yorkshire pudding is ingrained in British genes. This is not exactly the case. I am surprised how many people choose to buy commercially produced frozen yorkies or are simply afraid to event attempt to cook this pudding. Let me demystify this subject, with my step by step simple recipe you will be able to produce a delicious, crispy, well risen Yorkshire puddings every time. Some people use electric mixers but I believe that whisking by hand gives better control over the whole process and produces perfect batter. So if you believe that a Sunday roast without Yorkshire pudding is like Shrek without Fiona, like Jedi knight without a lightsabre, like Jurassic Park without dinosaurs… then grab a whisk and make some yorkies.
Makes 12 individual puddings or one large sharing tray.
Equipment required: 12 hole deep muffin tray or one large deep roasting tray
Ingredients:
125g plain flour
2 large eggs
250g full fat milk
around 60g lard (I prefer lard but any other fat with relatively high smoke point will do)
Method:
Put flour in a large mixing bowl. Make well in the centre and break in the eggs.
With a large hand whisk start with whisking eggs, gradually drawing in the flour. Continue until eggs are well beaten and gathered enough flour to make a thick paste.
Whilst whisking start pouring in the milk. Little at a time gradually drawing the remaining flour. Whisk until the batter is smooth and has a single cream consistency. Leave to stand for about 30 minutes.
Preheat the oven to 220 centigrade.
Put a heaped teaspoon of lard in each of muffin holes (or put 60g of lard into the large roasting tray).
Put the tray in the oven for 10 minutes until the fat is very hot.
Remove the tin from the oven. Stir the batter and ladle it into holes (or transfer the whole batter into the roasting tray).
Return to the oven and cook for 15 to 18 minutes, until the pudding are well risen, crisp and golden. Do not be tempted to open the oven door whilst cooking the pudding as it may sink.
Serve alongside your favourite roast with a good amount of gravy.