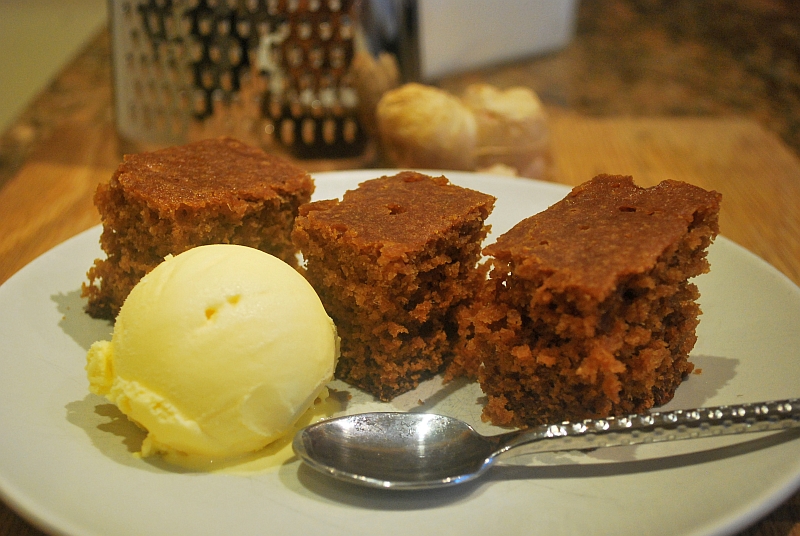 Slow cooker ginger cake – no baking!
Slow cooker ginger cake – no baking!
I like the time when you gradually switch from fresh ingredients and light meals of summer into autumnal menu. Barbecuing is starting to feel like a distant memory and is replaced by roasted dishes. I do not mind it though. It brings a change, excitement of cooking something different than a month ago. At the time when days are drawing shorter and good weather seems a luxury I want to enjoy as much time outdoors as possible. Then when I am back home and we all sit down to a family dinner I want dishes that will warm me up. I want big, bold flavours. And when it comes to desserts gone are the days dominated by light dishes composed around fresh berries. This is time for heavier puds and I love it!
This cake is a perfect solution for autumn weekends. It is moist, sticky and wonderfully gingery. There is nothing better than a slice of this cake with a cup of coffee after spending morning in the October chill. The best thing I like about it is that you can mix the ingredients in the morning. Put the cake mix in the slow cooker and forget about it for good 3 hours. Go for a lovely autumnal walk and return to a ready baked cake. You don't have to use hob or oven so there is no risk in leaving the house. It is equally great if you are expecting to host a Sunday dinner. You can simply put the slow cooker on at lunchtime, concentrate on cooking the main course and entertaining your guests and you will have pud ready to serve after dinner. The cane sugar and treacle gives this cake a lovely dark colour. It is delicious served warm but if you store it wrapped in a cling film in an airtight container, the stickiness will improve over the next few days. Not that I expect it to last more than couple of days!
Serves: 4 – 6
Equipment required: slow cooker
Ingredients:
75g butter (salted or unsalted, depending on preference). You can substitute butter with margarine for vegan version
75g soft dark brown sugar
2 tsp ground ginger
½ tsp ground cinnamon
1 tblsp freshly grated root ginger
2 eggs
2 tblsp treacle (molasses)
2 tblsp golden syrup
1 tsp vanilla extract
175g self raising flour
½ tsp baking powder
Method:
Switch the slow cooker onto HIGH. Cut baking parchment to line the basin, grease it and put it in the slow cooker (it will help to lift the cake out)
In a bowl, cream together the butter and sugar. Then add the ground ginger and cinnamon and mix well.
In a large jug beat the eggs with a whisk until well aerated. Add the treacle (molasses), golden syrup and vanilla extract. Stir well.
Add the flour, baking powder and grated ginger to the bowl and then pour in the egg mixture. Stir well until all ingredients are combined.
Pour the cake mix into the lined slow cooker basin and level off the surface.
Turn the slow cooker to LOW and cook for 3 hours or until just firm to touch.
When ready lift it gently out of the slow cooker and let it cool a little.
Serve with a scoop of good quality vanilla ice cream, crème anglaise or caramel sauce.