Easiest ever Butternut Squash Purée
Easiest ever Butternut Squash Purée
Welcome back! It's been over 12 months since I published my last recipe and I can only apologise. Last year has been hell of a ride and many of us had to rethink how we live our life. It's one of the reasons why I chose to share this particular recipe now. I wanted to show you something simple yet very enjoyable and butternut squash purée is just that. I can even risk a statement that it is an easiest purée to prepare. Believe me, I made many purées; potato, peas, carrot, cauliflower and butternut squash is by far the easiest and at the same time very delicious. All you need is some patience and food processor or blender.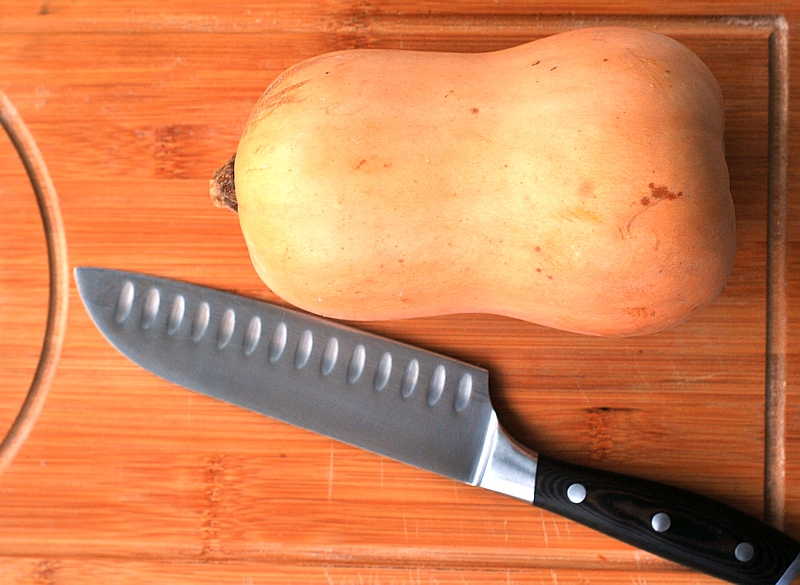 Butternut squash is now easily available, inexpensive and I think it is very underrated. I use it in soups, tray bakes but it truly shines when converted into purée. This dish works beautifully with pan fried duck breast. It will also pair great with roasted pork dishes and it as a fantastic lower carb alternative to mashed potatoes when served with roasted chicken. This purée can also be used as weaning food when you move baby from milk to solids (simply adjust seasoning and butter content). Give it a try and you will be surprised how nice and easy it is.
Serves 3 – 4 adults as a side dish
Equipment required: food processor or blender.
Ingredients:
1 medium / large butternut squash
oil for greasing (I like using coconut oil here but olive oil or rapeseed oil works good as well)
2 knobs of butter
pinch of ground cinnamon (optional)
salt to taste
Method:
Pre heat oven to 190 centigrade (fan assisted)
Line rimmed baking sheet with kitchen foil
Cut the butternut squash in half lengthways. Scoop out the seeds and score the flesh in criss cross pattern.
Grease the flesh with oil and place the halves, cut side down, onto the baking sheet.
Place it in the middle of pre heated oven and roast for 50 – 60 minutes, or until tender (the time will depend of the size of the squash). Grab a drink and go to watch couple of episodes of Love, Death + Robots on Netflix.
Remove from the oven and allow to cool just enough to handle. Around 10 minutes it usually enough for me but my wife says I have asbestos hands so you may want to wait a bit longer.
Using a spoon carefully scrape the cooked flesh from the skin and place it in food processor or blender.
Add butter, seasoning and cinnamon (if using) and blitz until even and smooth. I prefer food processor but good, powerful blender should do the trick as well.
Serve immediately or transfer to an air tight container. Once cooled down it can be stored in a fridge for up to a week or frozen. When you are ready to use simply re heat on a hob or in a microwave.