Super quick breakfast – milkshake!
Super quick breakfast – milkshake!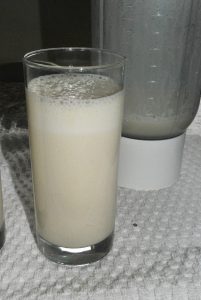 My second post and it is about … breakfast again! This time however it will be a mid week quick fix. Forget about indulgence of the American pancakes. You have 15 minutes to put something together, your child toddles around you and demands your attention, your wife is blow drying hair and you know she has to leave in 20 minutes. You need something quick to prepare, quick to eat and preferably tasty. It is time for a morning milkshake. This recipe has been inspired by Gino D'Acampo but I changed few bits to make it a bit healthier and more to my family tastes.
Equipment required: upright blender.
Makes portion for 2 adults and one little munchkin
Ingredients:
400ml of full fat milk
250g of thick (greek style) yoghurt
2 ripe bananas cut in chunks
2 tblsp of maple syrup
Handful of frozen fruit chunks mix (I use exotic fruit mix)
Sprinkle of ground cinnamon
Method:
Put banana and fruit mix in the blender. Add yoghurt, maple syrup and cinnamon following with milk. Blitz it and pour into serving glasses.
As it takes no time to drink, you can spend the last few minutes at home on wiping milky moustache from your child's face.