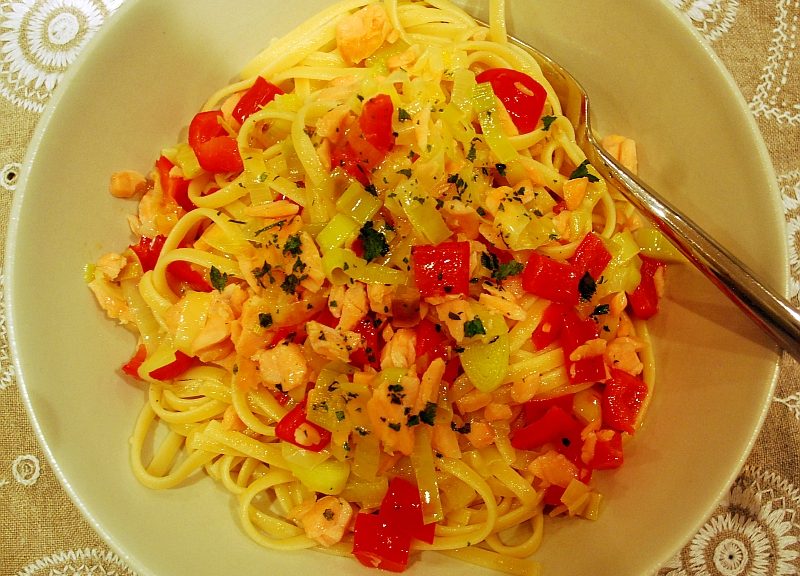 Leeks, peppers and smoked salmon pasta
Leeks, peppers and smoked salmon pasta
Last Friday we were all home late. My wife, Becky was travelling from Norfolk and I had to pick her up from the train after 7.00pm. So by the time we got home we were starving. We needed something that is quick but also nutritious and flavoursome. For quick, tasty and versatile meals pasta is irreplaceable. Most of the time you can put together decent sauce in the time it takes dried pasta to cook. This recipe is no different. All it needs is a bit of chopping to start with and the rest is dead easy. It almost cooks itself! As a bonus you get to eat an oily fish. Nutritionists say that we all should eat one portion of oily fish per week and having smoked salmon in this dish makes it so easy to achieve it!
Serves 4. Recipe inspired by original by Gino D'Acampo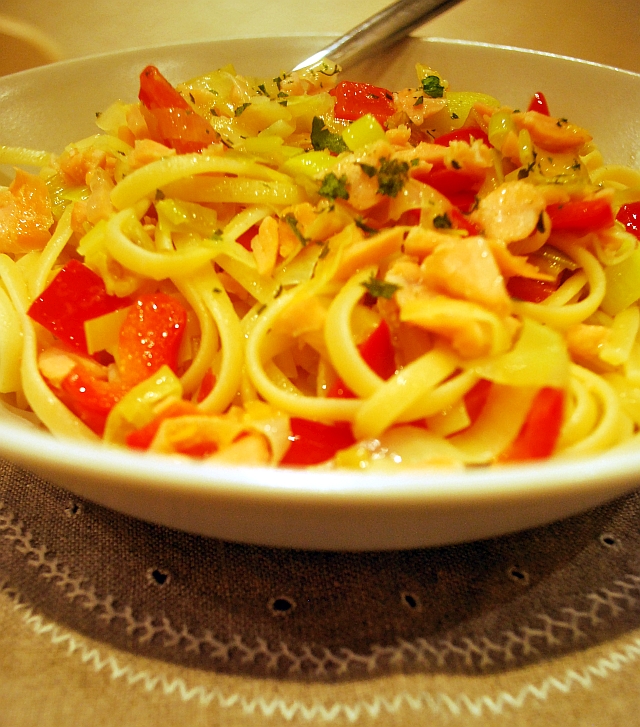 Ingredients:
500g linguine
5tblsp olive oil
30g salted butter
1 leek, washed and cut into 0.5cm slices
1 red pepper, deseeded and cut into 0.5cm cubes
200g smoked salmon cut into 0.5cm strips
½ tsp dry chilli flakes
75ml dry white wine
Zest of 1 unwaxed lemon
Freshly chopped parsley to garnish
Method:
Cook pasta in a large saucepan of boiling water until al dente
Meanwhile melt the butter with oil in a large frying pan over a medium heat.
Add the leek and pepper and fry for about 5 minutes stirring occasionally.
Add in the salmon and the chilli and cook for 1 minute.
Pour in the wine and cook for another minute allowing alcohol to evaporate
Season with salt and pepper to taste and set aside resting until pasta is cooked
Drain the pasta and tip it back into the same pan
Pour in the salmon and leek sauce into the pasta and grate in the lemon zest.
Stir everything for about 30 seconds to allow flavours to combine.
Serve in pre heated pasta bowls garnished with chopped parsley.
You can substitute linguine with spaghetti or fettuccine if you wish and swap smoked salmon for smoked trout it you prefer milder flavour.