It is that time in January when you are not longer full of cheese after Christmas and want to get back to simple things. One of the most simple breakfasts my family enjoys is a buttered slice of milk bread with jam or honey accompanied by a cup of freshly brewed cappuccino. Milk gives this bread a wonderfully soft crumb and little sugar added makes it a bit more special. It is delicious when freshly baked. But if for some reason you will let it go stale it works perfectly as French toast or in bread and butter pudding. My wife loves it and I am sure your families will like it as well. It is ridiculously easy to make so there are no excuses why you should not try it.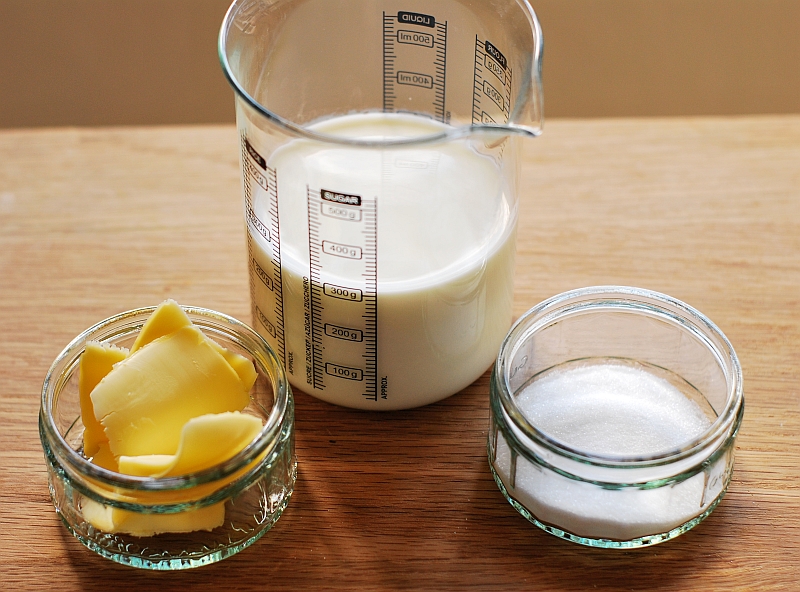 Makes one large loaf
Equipment required:
Large mixing bowl
Pizza / bread peel or a flat baking tray to slide the bread into the oven
Baking stone or a heavy baking tray placed upside down
Baking parchment / paper
Ingredients:
500g strong white bread flour
320g lukewarm full fat milk
25g softened butter
25g caster sugar
10g salt
7g easy bake dried yeast
Method:
Place the salt on the bottom of the bowl. Tip in the flour, sugar and yeast. Add the butter and milk.
Move the flour around gently, until you've picked up all of the flour. You want dough to be soft but not soggy. If it feels too stiff add another 10 – 20g of milk.
Use the dough to clean the inside of the bowl and then tip it onto the work surface. Knead for 5 – 10 minutes until the dough feels elastic and starts to form a soft, smooth skin. Avoid adding extra flour during this process. Alternatively you can knead the dough inside the bowl using a method described here. If you are using a mixer with kneading hook attached, knead at low speed for about 3 minutes. Then turn if up a notch and knead for another 7 minutes.
Oil inside of the mixing bowl with about a teaspoon of rapeseed oil and tip the dough back in. Cover with a damp tea towel or shower cap. Leave to rest in a warm place until at least double in size. This should take at least one hour, but it is ok to leave it for 2 – 3 hours.
Tip the dough back onto the lightly floured work surface. Fold it inwards several times to knock out the excess air.
Divide the knocked-back dough into 3 equal pieces and roll each piece into a sausage 25 – 30 cm long. Joint the sausages together at one end, ready for plaiting.
Start with one outer piece on the right and lift it over middle piece.
Then lift the piece on the left over the middle.
Then the right over the middle and left over the middle.
Repeat this sequence until you reach the end. Tuck the ends underneath.
Lift the loaf onto a bread peel or baking tray lined with baking parchment. If at this point of reading you decide that you can't be bothered with all this plaiting, then shape a basic loaf and stick it in a baking tin. Prove as below.
Cover with a damp tea towel and prove for about 1 hour, until the dough has doubled in size.
About 20 minutes before baking heat the oven to 210 centigrade.
Slide the loaf onto the baking stone (of upturned heavy baking tray) and bake for 25 minutes. Or until the bread is golden brown and sounds hollow when tapped on the base.
Remove out of the tin, if you baked in tin. Place the bread on wire rack to cool.